Milestones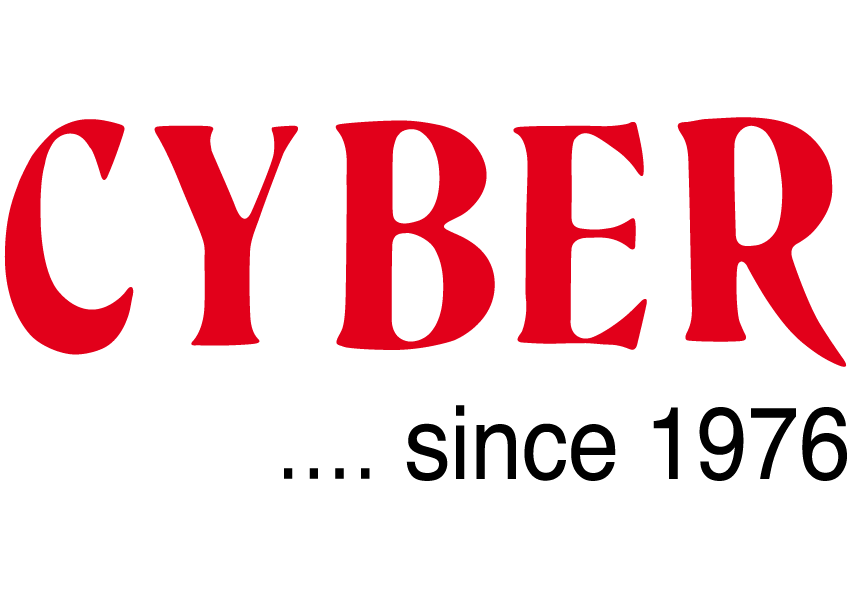 1976
- Cyber started business in Singapore marketing only RYOBI presses.
- Became Uchida Yoko's distributor for paper drill and guillotine.

1977
- Cyber (M) Sdn Bhd, headquarters for its Malaysian operation started in Petaling Jaya.


1979
- Moved to Pasir Panjang Alexandra District Park.

1982
- Began marketing Horizon Bindtronics collators, Perfect Binding equipment and Nagai guillotine.

1983
- Acquired the agency for Mitsubishi Silver Master platemaking system.
- Nagai guillotine was added to Uchida product range.

1984
- Sale of the 1,000th RYOBI offset press.

1985
- Moved to new premise at Jalan Kilang Barat (present site) with land area of 35,000ft2, at the fringe of the city.

1987
- Moved into book binding equipment market with the introduction of Shoei Star Paper Folder, Japan's top selling folding machine.

1990
- Akiyama Large Format Offset Press was added to complete the range of offset press distributed.

1991
- Purchased new building in Kuala Lumpur to expand Malaysian operation.

1992
- Secured rights to market Hohner Wire-Stitcher.
- Appointed distributor for Perfecta's range of guillotines and 3-knife trimmers.

1994
- Cyber Centre completed and officially opened by Mr. Hiroshi Urakami, President of RYOBI Ltd, Japan.
- Appointed distributor for TSK range of products.

1995
- Iijima range of die-cutters added to out post-press equipment (packaging).

1997
- Awarded The Guinness Book of Records for running 21,200 sheets per hour with KBA Rapida 72 offset machine manufactured by RYOBI Ltd.

1998
- Osako Stitching Line introduced to the market.

2000
- Moved to new premise in Kuala Lumpur, followed by the opening of Cyber Graphics (2000) in Bangkok, Thailand.

2002
- Opening ceremony of CyberTech Centre, our showroom and refurbishing plant in Johor, Malaysia, with land area of 180,000ft2.

2004
- Incorporation of Cyber (Aust).
- Appointed by RYOBI Ltd. and Akiyama International Co. Ltd. as distributor in Australia.
- Uchida offers their Nagai guillotine, paper drill and paper counting machines to the range.
- Cyber Sydney showroom and office at Rydalmere was opened on August 25th by Mr Hiroshi Urakami. Chairman and CEO of RYOBI Ltd., Japan.

2005
- Opening of Cyber Melbourne showroom and office at Burwood

2006
- Cyber's 30th Anniversary celebration.
- Debut of the RYOBI 920 Series for the RYOBI Group.
- Opening of showroom by IMV, Ho Chi Minh City, Vietnam.
- basysPrint appointed Cyber as distributor for the CTcP system.

2007
- Incorporation of Cyber (NZ) Ltd.
- Appointed by RYOBI, Akiyama and Nagai as distributor in New Zealand.
- Purchased new office and showroom in Sydney, Australia.
- Cyber Malaysia 30th Anniversary.

2008
- Opening of Cyber Centre II @ Jurong, Cyber's new showroom at No.7 Joo Koon Way, Singapore by Mr. Hiroshi Urakami, Chairman and CEO of RYOBI Ltd., Japan.

2009
- Debut of RYOBI 920 series with coater for RYOBI Group at PacPrint 2009, Melbourne.
- Collaboration with Australia's RMIT University in setting up a printing college in Singapore.
- Appointed by Sakata Inx and Printec for inks and printing blankets.

2010
- Incorporation of Cyber Sri Lanka and opening of Cyber Sri Lanka office in Columbo.
- Launched RYOBI 756-6E with Inline UV Coating, Casting and Foiling System within the Cyber Group.
- Purchased new 3,200m2 premise in Petaling Jaya, Malaysia.

2014
- Merger between RYOBI MHI Graphic Technology Ltd. and Mitsubishi Heavy Industries Printing & Packaging Machinery Limited, established for the integration of sheet-fed offset printing machinery business.
- Opening of the new expansion of Cyber Technology Centre in Senai, Johor, Malaysia. A 6,000m2 state-of-the-art showroom is built for the larger VLF format press range.

2015
- Installation of the 1st Ryobi MHI V3000R eco-UV 8-colour with convertible device and coating unit.
- Completion of newly built 16,000m2 CyberTech Centre 2 for used machine showroom and warehouse in Johor, Malaysia.
- Acquisition of Hanson Industries Sdn Bhd, a confectionery manufacturing company established in 1969.

2016
- Cyber's 39th Anniversary Celebration.

2017
- Opening Ceremony of the rebuilt 4,000m2 showroom in Petaling Jaya, Malaysia.
- Became an authorised distributor for Puradigm LLC., a proactive Air and Surface Purification System from USA.


---